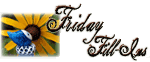 1. Idle hands are
the Devil's workshop
.
2. I love
sex
in the shower.  Yes, I said it.  S-E-X!  whee!
3. My favorite time of the day is
early in the morning when everything is still and quiet and no one's out but the paper boy and the mourning doves
.
4. The last tea I drank was
vanilla chai
.
5. I like to
swim
in the Summer.
6. My mother always said
don't go barefoot if the month has the letter "R" in it
.
7. And as for the weekend, tonight I'm looking forward to
working
, tomorrow my plans include
tag sale at the sangha, trip to the fresh market
and Sunday, I want to
do very little
!
link