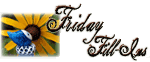 1. Holidays in the summer are
filled with food and family
.
2.
Fish, Fruits and Veggies
are my favorite things to grill.
Peaches, pineapple, apple-- corn on the cob, baked potatos, Rainbow Trout
Damn, when do we eat?
3. My thoughts are
I need to get off the computer and go make some coleslaw
.
4.
Going to Watauga Lake later tonight
is what I'm most looking forward to this weekend!
5. My favorite book so far this summer is
Book? I've not ready anything in a long while.
6.
Opening the door and breathing in the morning mountain air
is the best way to begin a day.
7. And as for the weekend, tonight I'm looking forward to
going to the lake
, tomorrow my plans include
working
and Sunday, I want to
work. A little
!
link